Lot No. SH38377 & SH38378 / STAR OF HOLLYWOOD / Mid 1950s Style High Density Rayon Shirt "RATTLE SNAKE"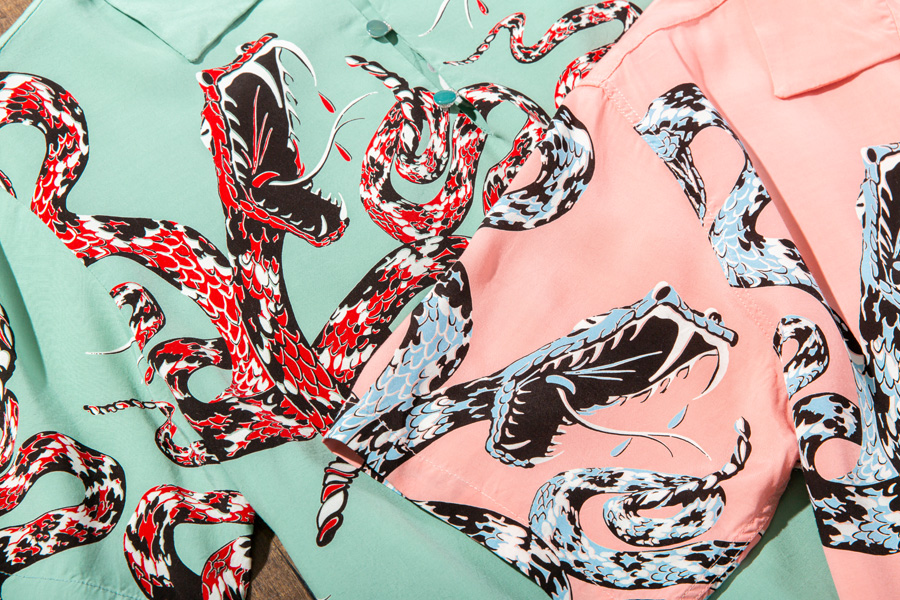 Star of Hollywood is a US brand found in the 1950 and of which facts still remain unclear. It is characterized by the impacting design works and distinctive colorway, and epitomized especially by the super-rare five exotic shirts that are, "Tarantula", "Condor", "Rattlesnake", "Shrunken Head" and "Mad".
本日はテーラー東洋と並び、私が企画を担当するブランド「スター・オブ・ハリウッド」について話をさせていただきたい。
アメリカンヴィンテージクロージングはワーク、ミリタリー、ハワイアンシャツ、フィフティーズなどいくつかのジャンルに分類されるが、どのジャンルのヴィンテージコレクターにも一目置かれ、一生に一度は手に入れたいと思わせるシャツが存在する。それが、STAR OF HOLLYWOOD(スター・オブ・ハリウッド)が1950年代に手掛けた5つの傑作。
「タランチュラ」「コンドル」「ラトルスネーク」「シュランケンヘッド」「マッド」の5作品が存在するが、当時ブランドが継続していた年数も短く、生産数もごく僅かで、コアなコレクターでも入手できて1~2柄。5柄すべてをコンプリートすることは非常に難しく、数あるヴィンテージシャツの中でもウルトラレアと呼べる代物である。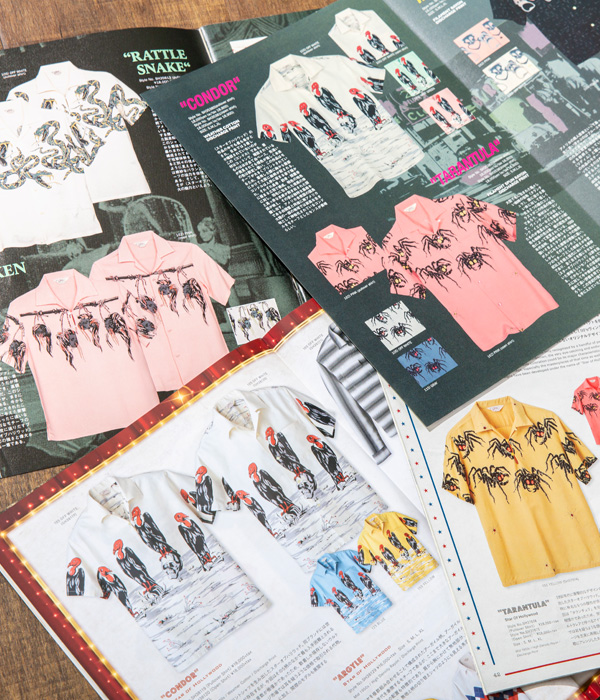 The photo shows the classic shirts of "Star of Hollywood" that we have reproduced so far, which are the "Condor" and the "Tarantula" (on upper right) both released in 2011, the "Rattlesnake" and the "Shrunken Head" (upper left) in 2012, the "Tarantula" and the "Condor" at the bottom are the shirts that were re-reproduced in different colorways in 2018 and 2019 respectively.
Star of Hollywood is a rarely-seen brand only recognized by a handful of people in the vintage clothing industry and enthusiastic collectors,and has been traded at unbelievably high prices among them. If very luckily you happen to find the shirt at vintage shop, you will see a tag of "Not for Sale" attached. It's such a mythical brand.
これまでに弊社で復刻してきたスター・オブ・ハリウッドの傑作。写真右上が2011年カタログに掲載のコンドルとタランチュラ。写真左上が2012年カタログに掲載のラトルスネークとシュランケンヘッド。写真下部のタランチュラとコンドルは、それぞれ2018年と2019年に新たな配色を加えて再復刻を果たした。
スター・オブ・ハリウッドは、ヴィンテージの専門書で紹介されるまでアメリカ本国に古着を買い付けに行くショップのオーナーや、コアなコレクターにしか存在を知られていなかったにもかかわらず、市場ではこれまでに耳を疑うような金額で取引されてきた。ヴィンテージショップの店頭に並ぶことはまず無いうえ、運良く仕入れることができたとしも非売品として扱われる、まさに幻のブランド、幻のシャツと言えよう。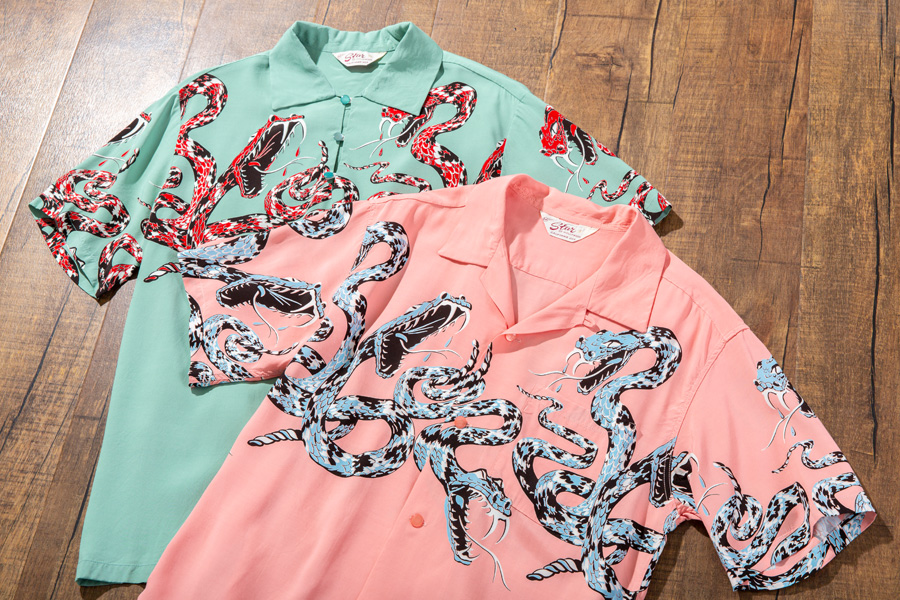 In this season, we reproduced one of the five rare shirts, "Rattlesnake". The pink shirt is the exact duplication of the vintage, the other two, mint green and grey shirt, are our original colorways depicted using the symbolic colors of 50's.
今季は「ラトルスネーク」を再復刻。ピンクはヴィンテージを忠実に再現した配色であり、恐ろしい毒蛇をスカイブルーの配色で描くことで、ポップアートへと昇華させている。また実在する配色の雰囲気を崩さぬよう、フィフティーズを象徴するミントグリーンやグレーを基調にしたオリジナルカラーも展開する。
スター・オブ・ハリウッドの5柄はどの作品も芸術性が高く、一度見たら忘れられないほどの強烈なインパクトを持ち、モダンで古さを感じさせないポップアートのようなデザインが特徴で、形は一貫してプルオーバータイプ。弊社ではヴィンテージの仕様を再現したプルオーバーのモデルを展開しつつ、開襟にアレンジしたモデルもリリースしている。
STAR OF HOLLYWOOD
Mid 1950s Style High Density Rayon Shirt "RATTLE SNAKE"
Style No. SH38377 (Pullover Shirt) ¥18,000+tax
Style No. SH38378 (Open Shirt) ¥18,000+tax
Size: S, M, L, XL
Color :115) GRAY, 141) MINT GREEN, 162) PINK
スターオブハリウッド・オンラインストア
STAR OF HOLLYWOOD ONLINE STORE