"MODUCT" 2021-2022 WINTER Vol.01 / Lot No. MO14879 N-1 STUFFED "MODUCT MFG. CO."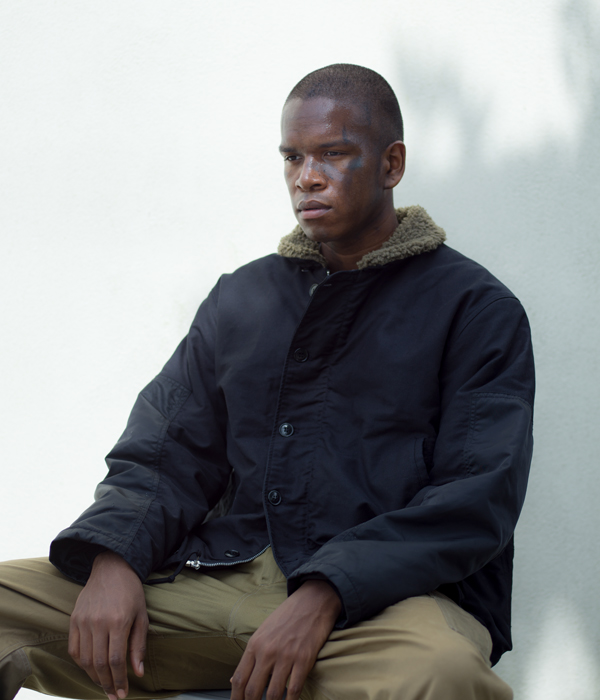 "MODUCT" 2021-2022 WINTER Vol.01
今季からスタートした新たなブランド、MODUCT(モダクト)。ブランド名は modification(改良・改造)と product(工業生産品)を組み合わせた造語。その名の通り「改良生産品」をコンセプトに掲げ、弊社が長年手掛けてきたヴィンテージアメリカンクロージングの魅力はそのままに、機能的かつ実用的な「改良」を加えたアイテムを展開している。
モダクトのテーマはシーズン毎に変わっていくが、ファーストシーズンのテーマはミリタリー。これまで本格派ミリタリーブランド BUZZ RICKSON'S(バズリクソンズ) で培ってきたノウハウを活かしつつ、「実用性」「シルエット」「取り扱いやすさ」「利便性」「デザイン性」といった5つのポイントに改良を加えている。ここではモダクトの「N-1 STUFFED」を取り上げ、改良点やディテールの特徴について解説していく。
modified for improvement "MODUCT"
N-1 STUFFED "MODUCT MFG. CO."
Style No. MO14879 ¥52,800
Size: S, M, L, XL
Color :119) BLACK, 135) KHAKI
The brand name "Moduct" is a coined word combining "modification" and "product". With the concept of "modified products," it is developing items that are not bound by seasonal trends or fixed mindsets.
Insulated jacket inspired by N-1 jacket style, with various useful pockets.
Main material: Jungle Cloth
Inter Lining: 4 oz. CLIMASHIELD. Newly developed, super light, thermal, synthetic fiber insulation.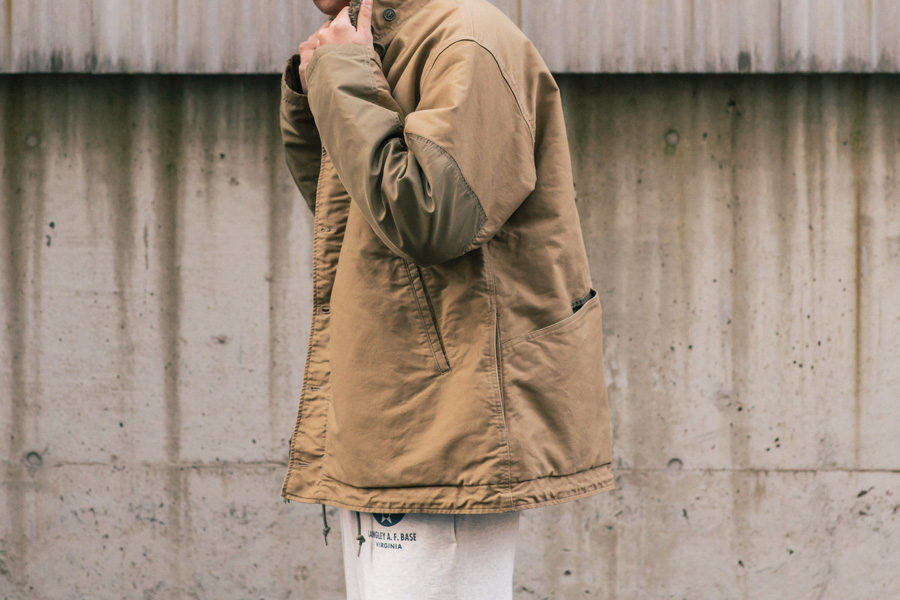 コンセプトは「Tシャツの上から羽織ることができるN-1」
ベースとなっているのは1940年代にアメリカ海軍の艦艇乗員用として採用されたジャケット「N-1」。ヴィンテージのN-1は裏地にアルパカモヘア・ウールパイルを使用して保温性を高めているが、本作では現在の米軍でも採用されている高機能中綿の CLIMASHIELD®(クライマシールド)を使うことで、高い保温性・耐久性・軽量性を実現している。中身の詰まった(中綿入りの)N-1であることから、「N-1 STUFFED」と名付けられた。
またシルエットについても改良を加えており、身幅や着丈を絶妙に調整することで、ジャストサイズを選んでもオーバーサイズを選んでも様になるシルエットに仕上げている。上の写真では身長180cm、体重65kgの弊社スタッフがLサイズを着用。ややゆとりのあるシルエットで、着用時のストレスを感じさせない。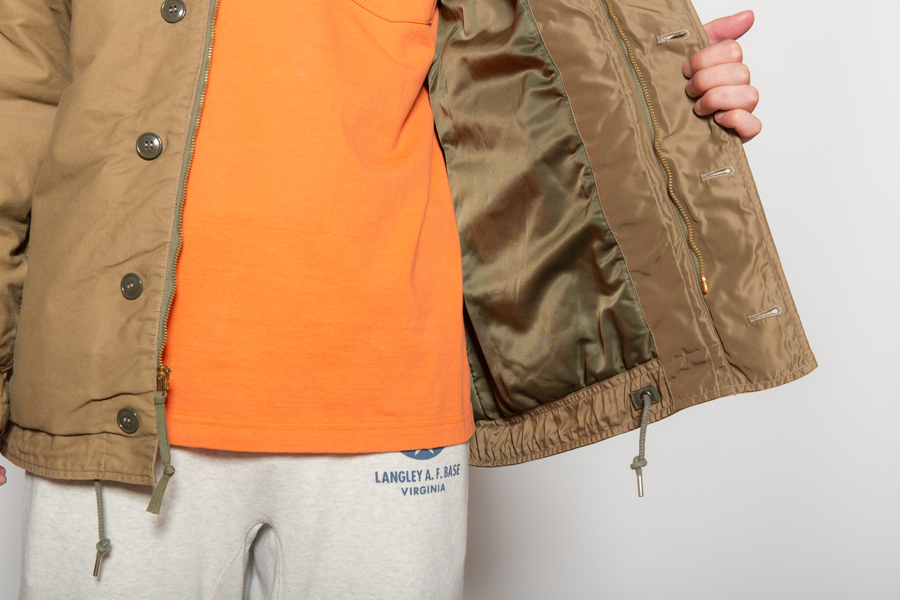 裏地には 2/2 LIGHT TWILL NYLON を使用
フロントはヴィンテージ同様にジッパーとボタンで遮風性を高める仕様。ウエストのドローコードを絞ることでシルエットに変化をつけることができる。「Tシャツの上から羽織ることができるN-1」というコンセプトに基づき、肌当たりの良さを考慮して裏地にはライトツイルナイロンを採用。袖の肘当てや身返しの裏にはヘビーツイルナイロンを使用しており、補強としてだけでなくデザインのアクセントとしても一役買っている。
ヴィンテージのN-1は裏地にアルパカモヘア・ウールパイルを使用しているため素材の特性上、家庭での洗濯が難しいが、「N-1 STUFFED」は裏地をナイロンにしたことで水洗いができる。購入後の取り扱いやすさについても改良を意識しているのがモダクトの特徴。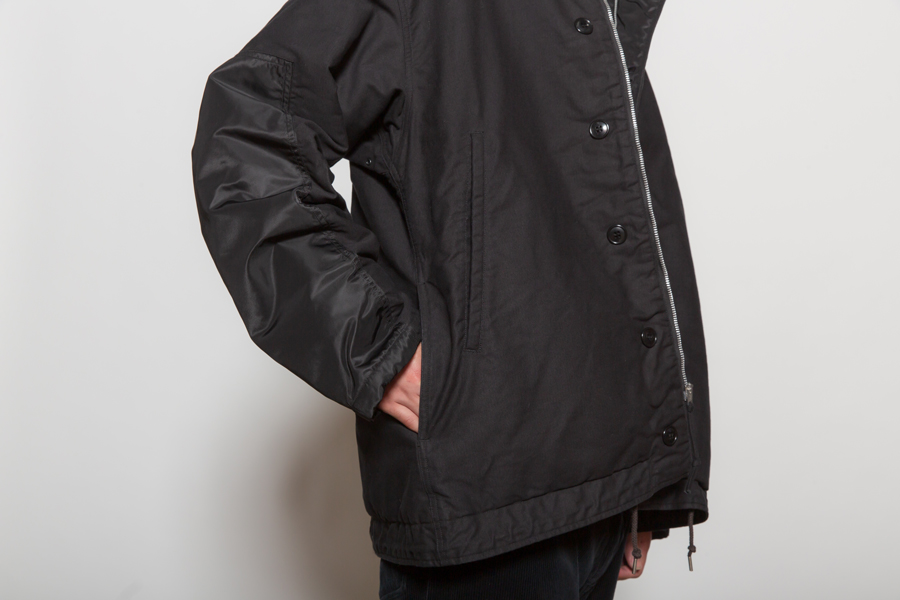 多くのポケットを設けて利便性を改良
腰のスラッシュポケットは通常のN-1よりも大型に設計。また着用時の使い勝手を考慮し、裾の脇部分にはハンドウォーマーを設けてある。さらに背中には大容量のツールポケットも装備。スラッシュポケット×2、ハンドウォーマー×2、ツールポケット×2という計6箇所のポケットを使い分けることで、バッグ無しで外出できるほど利便性が良い。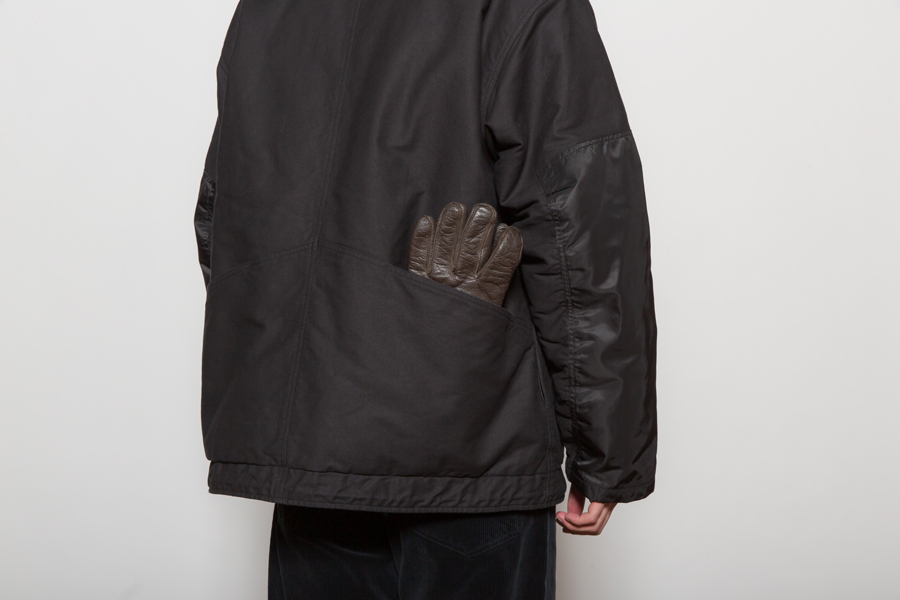 生地の「継ぎ」を増やすことで縫製部のパッカリングを強調
ヴィンテージのN-1の魅力のひとつが、甲板での作業により雨風にさらされ、表地グログラン生地が縮みを起こし、縫製部に現れるパッカリング。この「N-1 STUFFED」では袖の肘当て布、スラッシュポケット、ハンドウォーマー、背中心の継ぎ、背面のツールポケットなど多数の切り替えを設け、仕上げに洗いをかけることでグログラン生地が造りだすパッカリングを強調している。
また肘の補強布の色味についても、ブラックのグログランにはブラックのナイロン、カーキのグログランにはオリーブドラブのナイロンと、生地感や色味のトーンを切り替えることで適度なデザインアレンジを施している。
MODUCT ONLINE STORE モダクト・オンラインストア